Latest updates

This section lists updates delivered since the last major release, with the most recent updates showing at the top.
Chrome 103 Stable

Added support for Google Chrome 103 Stable on Windows and Mac machines.

For a complete list of supported browsers, see Supported platforms.
Android 13 Beta 3

Added support for Android 13 Beta 3. For complete support information, see Android support updates.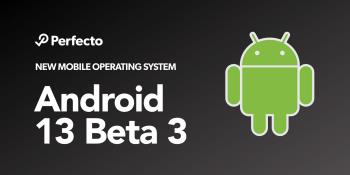 Scriptless Mobile

enhancements

For enhanced usability, renamed the following labels in Scriptless Mobile:
While editing an action from the step list, you can confirm the changes to the edited action with the Save Action button in the details panel. This button was previously named Add Action.

If you want to change the existing action, the details panel displays a list of action types with the title Change action type. This title was previously named Add an action.
These new labels provide more clarity with regard to the actions performed.
Automation Framework values in Report Library

The Automation Framework column in the Report Library now displays a value of Scriptless Web for all tests run from Scriptless Web and a value of Scriptless Mobile for all tests run from Scriptless Mobile.

Previously, the column would display the value Scriptless for tests run from Scriptless Web and Selenium for tests run from Scriptless Mobile.